JAPAN AFRICA NETWORK'S TOP 10 DESTINATIONS:
Serengeti National Park (the great migration), Tanzania
Kruger National Park, South Africa
Pyramids, Giza Egypt
Rift Valley Lakes, Kenya.
Kalahari Desert, Botswana
Karnak Temple, Egypt
Table Mountain, S. A.
Atlas Mountain, Algeria
Djoudj National Park, Senegal
Goree Island, Senegal
Attractions and things to see in Hakone:
Royal: The Sun of South Europe docked at Moto-Hakone port to pick-up tourists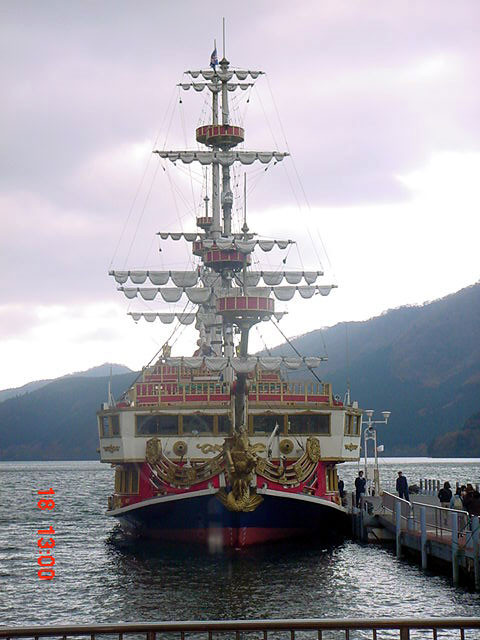 Sea Pirate Ships (Kaizoku-sen):
These are replica pirate ships cruising along lake Ashi, they provide some of the best sightseeing experience for tourists to Hakone, enabling them to enjoy the spectacular views of the mountains, valleys and beaches along the bank of lake Ashi while enjoying the comfort of these ships. They are four in number: "Royal", "Frontier", "Victoria" and "Vasa", get on the deck of one of them and let the soft breeze from the lake blow out all your stress of city life. Various kinds of drinks, souvenirs etc can be purchased onboard.
Best Views:
Mount Fuji - Autumn/winter, early mornings and late evenings from the boats along the Ashi lake, from the mountains or from Moto Hakone.
Cherry blossom - April
Chinese silvergrass - Autumn
Another great view in Autumn is along the lake when all the leaves on the trees turn yellow and red.
Hakone is a mountainous resort, the driveway is complete with viewing spots all along the mountain range to the top, from where the beauty of the sprawling Ashi Lake can also be viewed. You can also view the mountains from the boats along the Lake Ashi.