JAPAN AFRICA NETWORK'S TOP 10 DESTINATIONS:
Serengeti National Park (the great migration), Tanzania
Kruger National Park, South Africa
Pyramids, Giza Egypt
Rift Valley Lakes, Kenya.
Kalahari Desert, Botswana
Karnak Temple, Egypt
Table Mountain, S. A.
Atlas Mountain, Algeria
Djoudj National Park, Senegal
Goree Island, Senegal
Attractions and things to see in Hakone:
Torii: at Moto Hakone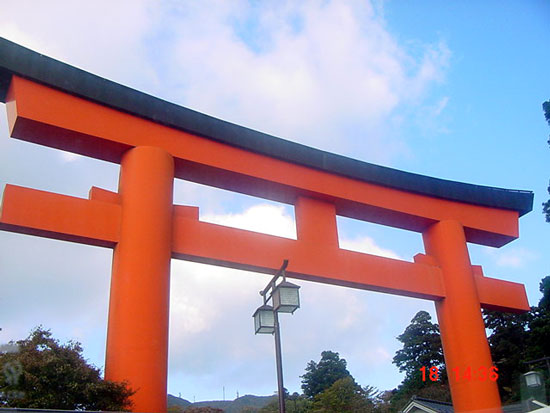 Torii:
The gateway sign or post marking the entrance to a Shinto shrine. They are made of stones and sometimes woods with two rounded poles on either sides of the road and a crossbar. Though this one here has two orange poles and a black crossbar on top, other toriis may be all orange, red or even stone gray.
This large orange and black painted torii on the main street of Moto-Hakone and others on the Ashi lake serves as notices to tourists and worshippers that there is a shrine in the city.

Best Views:
Mount Fuji - Autumn/winter, early mornings and late evenings from the boats along the Ashi lake, from the mountains or from Moto Hakone.
Cherry blossom - April
Chinese silvergrass - Autumn
Another great view in Autumn is along the lake when all the leaves on the trees turn yellow and red.
Hakone is a mountainous resort, the driveway is complete with viewing spots all along the mountain range to the top, from where the beauty of the sprawling Ashi Lake can also be viewed. You can also view the mountains from the boats along the Lake Ashi.