AFRICAN HEADS
of State and Governments
ECONOMIC COMMUNITIES & AFRICA REGIONAL BODIES:
JAPAN AFRICA NETWORK'S TOP 10 DESTINATIONS:
Serengeti National Park (the great migration), Tanzania
Kruger National Park, South Africa
Pyramids, Giza Egypt
Rift Valley Lakes, Kenya.
Kalahari Desert, Botswana
Karnak Temple, Egypt
Table Mountain, S. A.
Atlas Mountain, Algeria
Djoudj National Park, Senegal
Goree Island, Senegal
CONTACT US: E-Mail!

Angola: Our country of the Month, November 2010
Japan Africa Network joins all Angolans, friends, wellwishers and all Africans in diaspora to celebrate 35th independence anniversary on 11 November 2010. Congratulations for 35 years of social and economic growth, you are Japan Africa Network's, Country of the Month November 2010.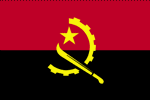 Flag of Angola
Brief History: Early Portuguese contact with what is today's Angola dates back to the 15th century trades, chiefly in slaves, commodities and raw materials in exchange for goods along the Atlantic coasts. This relationship lasted for over 500 years and later expanded inlands leading to slavery, wars and colonization. The local people started agitating for independence in the 1950s but this was refused by Portugal leading to the formation of nationalist movements like: MPLF(Popular Movement for the Liberation of Angola) in 1956, FNLA(National Front for the Liberation of Angola) in 1961 and UNITA(National Union for the Total Independence of Angola) in 1966. Angola fought long and hard and finally got independence from Portugal 11 November 1975 following a 1974 coup in Portugal when the new government in Lisbon decided to accept independence requests from its colonies. But Angola soon fell into a protracted civil war between the MPFL and UNITA which lasted until 2002 when Jonas Savimbi, the rebel UNITAS leader was killed.
Economic Development and growth: Under the able leadership of President Jose Eduardo dos Santos peace and stability has returned to Angola with the government working round the clock to lay the foundations for economic growth and national development. Within a short period of 8 years since the end of the long(27 years) civil war, Angola is quickly reconstructing its industries through huge infrastructural developments and resettling those displaced by war. Today Angola is a huge construction site with the government pouring oil money into public infrastructures such as housing projects, bridges and industries. Angola's growth is firmly anchored on increased crude oil and diamond production. With the high prices of crude oil on the international market between 2004 to 2007 plus other oil related activities contributing to nearly 90% of Angolan GDP. In September 2010, Angola produced 1.9 million barrels of oil per day, far above its OPEC assigned quota and promises to produce more to fund massive rebuilding of infrastructures. Huge economic growth has transformed Angola into one of Africa's best and one of the fastest growing economies in the world. Angola has also become a major direct foreign investment FDI destination from China, Europe and the Americas. Biocom, a joint venture between Odebrecht of Brazil, SONANGOL and Damer of Angola started planting sugarcane last year in the Malange province. The aim is to help revive agriculture, develop its biofuel sector, reduce dependence on oil and help kick-start sugar production(a once lucrative industry destroyed by the war) by 2011. To diversify sources of income, Angola is also investing in mining of iron, copper and gold.
Tourism: With the mean average temperature between 15 and 23 degrees celcius all year round, Angola's climate is suitable for the outdoors. The coastline stretches 1,650 kms along the Atlantic ocean providing clean sunny beaches for relaxation. There are also national parks and dense forestlands rich in exotic woods, a natural habitat for primates like monkeys and gorrilas.
See country facts below:
Send a Message of Congratulations: Click!

COUNTRY FACTS: ANGOLA
Name

(official)

:
Republic of Angola
Name

(short)

:
Angola
Capital City:
Luanda
Location:
Southern Africa Click to enlarge
Map of Angola
Coordinate:
12 30 S, 18 30 E
Independence:
(from Portugal) 11 November 1975.
President:

Jose E. DOS SANTOS

(President since 10 Sept; 1979 upon the death of President Neto),


Antonio Paulo KASSOMA

PM since 30 Sept; 2008
Fanando da Piedade Dias dos Santos(PM 2002/12/06 - 2008/09/30)
Type of Government:
Republic
Total Area:
1 246 700sq.km.
Population:
18 498 000 (2009 est.)
People:
Ovimbundu 37%, Kimbundu 25%, Bakongo 13%, mestico (mixed European and native African) 2%, European 1%, other 22%.
Religion:
Indigenous belief 47%, christians 53% (1998 est.)
Languages:
Portugese(official), Bantu, other indigenous languages
Literacy:
67.4%total, 82.9%male, 54.2%female (2008 est.)
Currency:
Kwanza (1 new kwanza = 100 Iwei)
GDP

(per capita):

$8 800 (2009 est)
Arable Land:
2.65% (2005 est.)
Agriculture:
banana, sugarcane, coffee, sisal, corn, ctton, manoic(tapioca), tobacco, vegetables, plantain, forest products, livestock, fish.
Natural resources:
Petroleum, diamonds, iron ore, phosphate, copper, feldspar, gold, bauxite, uranium.
Embassy in Japan:
Embassy of the Republic of Angola
Chancery: 2-10-24, Daizawa, Setagaya-ku. Post Code: 155-0032 Tel. 03-5430-7879
Embassy of the Republic of Angola
General Info:
Angola Info
International Phone Code:
+244
See video: Malimba dance, Angola 35th Independence Day Party, Tokyo 2010